ELEPHANT RIDE IN JAIPUR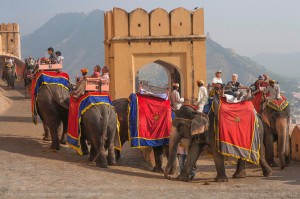 This is your chance to ride an elephant up to the Amber Fort like the royalty of Rajasthan once did. Mount the animal from a raised platform and sit comfortably in a specially designed, secure seat as the majestic animal winds its way up the ramparts of the fort. The elephant is a gentle creature and the mahout (a person who drives the elephant) uses an ankush (a sharp hook used to guide a tamed elephant by prodding it on the back of its head) to guide the animal up the ramparts. The animals look beautiful as the mahouts decorate them, especially the trunk, with floral and geometric patterns using coloured chalk and powders.
Amber Fort is a classic Rajasthani fort-palace on the outskirts of Jaipur. Built on top of a hill with a lake at its feet, its construction was started by King Man Singh I in 1592, and completed by his descendent Jai Singh I. The rugged exterior of the fort hides an aesthetic interior where a harmonious fusion of the Mughal and Rajput style of architecture can be seen. The intricate carvings on the walls and ceilings simply astonish the visitors.
An elephant ride to the top of this fort is one of the most popular activities in Jaipur. A colourfully decorated elephant making his way up to the Fort makes for a quintessentially Indian photograph!
Social Share